The Official Site of
Little Jan Buckner
Ministries


James Hales wrote this for his blog at the Southern Gospel News on February 7, 2007. This is a copy (used with permission).
Visit his blog on the Southern Gospel News web site.


---
Remembering Wendy Bagwell & The Sunliters
One of the most colorful and enjoyable groups to ever grace a Southern Gospel stage was Wendy Bagwell & The Sunliters. Those who never got the opportunity to see or hear them perform really missed a treat. One of the few groups to sing for almost 40 years with no personnel changes really spoke volumes about them. They had their own unique style that really identified with a lot of people and they became one of the top sellers for Canaan Records, a company they stayed with from 1970 until Wendy's untimely death in 1996.
Wendy Bagwell & The Sunliters was one of the groups I cut my teeth on as a kid. For some reason, I loved their music and Wendy's comedy. Wendy, who admittedly was not the best singer in the world, was smart enough to surround himself with great talent, and with Little Jan Buckner and Geraldine Morrison by his side, they sang and laughed their way to Carnegie Hall and across the ocean into Europe; not many groups can add those highlights to their resume.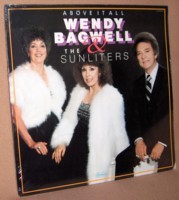 In my spare time, which isn't much, I have been transferring my favorite tunes by Wendy Bagwell & The Sunliters from my collection of records and tapes to CD. So far, I've completed 4 CDs worth of great music. As I've been listening, I've again realized just how great they really were. Granted, no one could spin a tale like Wendy, and no matter how many times I've heard him talk about Wilbur Wingate or Ralph Bennett or Corrine Cunningham, I still can't help but double over in laughter. But at the core of their vocal sound, was Little Jan and Jerri. No one could harmonize better than those two ladies. Jerri had a voice that one could easily recognize. She had a voice that wouldn't quit and as Wendy would say, "could tear the wall paper off the wall." She had volume and quite a range as well. Then there was Little Jan. I have always been such a huge fan of Little Jan's singing. She is such a stylist and had a voice that was so pure and perfect. As I've been transferring these records onto CD, I've had a blast listening to Little Jan transform herself and evolve into the stylist she has become. It was in the early to mid 1970's that Little Jan really came into her own as a singer and it was then that the group began to gel into their own unique style. In the beginning, the group had very much of a folk sound. But as the 60s rolled into the 70s, the group, while maintaining that folk feel, began to evolve into the legendary icon they've become today. To me, the music they made in the 1980's was the pinnacle of their career, producing some really GREAT records like "All Together Now", "Above it All", "It Ain't Love 'Til You Give it Away", "Let's Turn the Lights On" and "What's That Name". Even as the 1990's came around and they weren't touring as much as they once did, they still made some great music. Two of their best from this era were "Tell it Again" and "Roll Away the Stone." It was a great shock and tremendous loss when Wendy died suddenly on June 13, 1996. I saw the group perform at an outdoor event in Stuart, Virginia one month prior to his death, and I'm so glad I did.
Probably one of my fondest memories of Wendy was back in July 1988. I was 16 years old and was a Saturday DJ for a local Christian radio station. I attended a concert with Wendy Bagwell & The Sunliters and the Hemphills and did radio interviews with both groups. Wendy took me on their bus and did an interview with me and he made this timid, shy 16-year-old feel like somebody special and treated me with kindness and respect. I always appreciated that, and never forgot it.
While I love the music of today, I don't ever want people to forget those who paved the way for them. Wendy Bagwell & The Sunliters not only paved the way, they were trailblazers. There has never been a group quite like them, and probably will never be again. Everybody always tends to remember the Statesmen, Blackwood Brothers, Happy Goodman Family and such when names are called out as great groups in Gospel Music; Wendy Bagwell & The Sunliters is a name that rarely gets mentioned. By all standards, these guys were great and are truly missed.
Of the group, Little Jan is the only living member and you can see some great vintage photos of the group on Little Jan's website, www.littlejanbuckner.com.
---
Note from Little Jan: "Some of our Albums are still available. See my Product Page for details."
Read Little Jan's Bio
Read Randall Franks' Exclusive Interview with Little Jan!

Home
---
All content at www.littlejanbuckner.com is the property of Little Jan Buckner and cannot be copied or stored in any format (past, present, or future) without the written permission of Little Jan Buckner.
copyright 1999-2015
Little Jan's WebPageKeeper